Kayak Building 123 with Byron and Preston
OK, this for now is mostly pictures. A couple years ago I did a site about building my first kayak, the Gecko. Well I've learned alot about boats since then, and this time I've teamed up with Byron Olson who has been building surfboards for about as long as he's been walking. We both feel the process needs to be further demystified. Note though, that although not hard, you should think hard before jumping in to build your own boat. You need space, cash, materials, and TIME. Don't think you are going to build yourself a boat to save money.
Preparing the templates from a series of drawings
---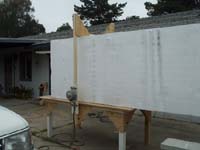 Preparing the foam block into slabs more manageable for template work
---
Tracing the templates onto Foam, and hotwiring in the profiles
---
The "board-in-a-boat" one off technique
This is a technique Byron has come up with, where the boat is hotwired into a "board" part, and a deck part. The board part has a string for strength, will remain solid foam, and be glassed first independently of the rest of the boat. The deck part will be glassed, and then hollowed out with acetone. This should give us a final boat that is light, strong, and has the finish of a surfboard on the outside (no messy seams).
---
Gluing in the Stringer.