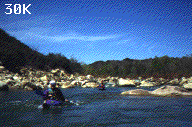 Sespe Creek
Text: H. Charles Foster
Photos: Patrick Kruse
Captions: Keith Dinger
---
Difficulty: IV-V
Flow: 400-1000
Optimum: 800
Miles: 31.5
Paddling Time: 3-4 days
Portages: Many! Rock climbing skills useful.
Put In: Lion Campground, 5 miles east of HW 33 on FS Road 6N31. (2980')
Take Out: Highway 126 bridge just west of Fillmore (400')
Shuttle: 45 miles, 1.25 hours
Average Gradient: 82 fpm
Mile/Mile Gradient: 40, 60, 40, 50, 80, 50, 70, 50, 50, 60, 70, 70, 50, 70, 50, 80,120, 100, 130, 90, 120, 140, 170,190, 140, 140, 130, 40, 30, 50, 45, 45
Gage: 5.4 - 6.4 feet, on gage visible across the river from the end of Goodenough Road, north of Fillmore. (Take binocu- lars for a clear view of the gage).
Season: Winter
Source: Runoff
Topo Maps: Lion Canyon, Topatopa Mountains, Devils Heart Peak, Fillmore 7.5 min. quads
Geology: Tertiary marine and non-marine sedimentary rocks, featuring the 54 million year old Sespe Formation. Oil and gas exploration began here in the 1860's, and the area's first oil wells were drilled in 1887 in Sespe Creek. Notes: Data provided by H. Charles Foster, foster@schubert.sedd.trw.com
AWA River pages project for Sespe Creek
---
The helicopter came thumping up the Santa Clara River Valley, then veered left up the lower reaches of Sespe Creek. "Sure hope he isn't looking for us", I said to Keith. Keith Dinger, Patrick Kruse and I had set off on our first trip down Sespe Creek three and a half days earlier. The problem was, it was only supposed to be a three day trip. We all had left people worrying about us at home.
Sespe Creek is legendary amongst Southern California boaters. First run by Doug Tompkins, Yvonne Chouinard, and Royal Robbins in the early 80's, it has since been successfully navigated by only a dozen or so boaters. Several trips have been interrupted or aborted due to rising water or insufficient skills. Also, most of the years since the first descent have been drought years, leaving the canyon with insufficient water for even the most rock-tolerant kayakers.
1995 was most assuredly a different case, with Southern California receiving record amounts of rainfall. This wealth of precipitation made Sespe unapproachable for most of the winter. There was the added risk that, once on the run, another storm might roll in. I had been warned emphatically by Sespe veterans Richard Penny and Steve Harris to avoid this scenario, as high water could render much of the lower half of the run extremely hazardous.
Keith and I, having run nearby Piru Creek in early March, were eager to experience more Southern California wilderness boating. We set a date for mid-March, only to postpone the trip as one of the coldest storms of the winter hit the state. A week later, high pressure dominated the weather pattern, triggering warm Santa Ana winds. A quick drive to Fillmore to check the gage, and a look at the extended weather forecast, and we were loading our dry bags. This new put in date allowed Patrick to join us.
The first fourteen miles are very easy. The creek goes `with the grain' of the local geology, only rarely cutting across the sedimentary rock beds. Most of this section is Class II-III with a few fun Class IV rapids, and only a few places where willows pose a hazard. There are fine views of the Topotopa Mountains to the south. These were covered with snow during our trip, and looked like parts of the Alps. Tree life is abundant here. Cottonwoods and willows line the banks, with the occasional oak and sycamore. The north facing slopes are often crowded with pines, while the sunbaked slopes on river left are covered with impenetrable chaparral. There are many views of the interesting rock deposits, with black, white, red, grey, yellow, and green sandstone layers. Some of the beds are loaded with fossils, including oysters, clams, and marine snails.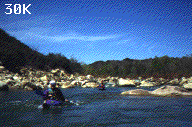 Several large landslides are encountered here. An amazing amount of earth and rock have slumped into the river due to the heavy winter rains. These sections demand vigilance as the sharp rocks form some tight but runnable rapids. Hikers may be seen on their way to or from the famous Sespe Hot Springs, which are about 1 mile up Hot Springs Canyon, at mile 13.5. We also spotted a variety of interesting river debris, including a dirt bike plastered vertically to a tree by the winter floods.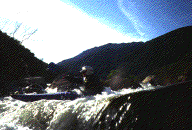 Good tree-shaded campsites are numerous all along the upper half of the run due to the wide canyon bottom and low gradient. We chose one just upstream from Hot Springs Canyon. We had all brought good food for our first dinner: fresh ravioli, pasta, and other goodies, but Keith surprised us by pulling out a liter of red wine. This topped off the best self-support dinner I've had. We were too lazy to hike up to the hot springs from our camp.